Birmingham beheading killer not guilty due to 'insanity'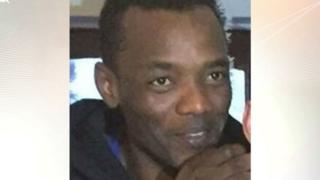 A man who decapitated and mutilated his ex-housemate in a betting shop has been found not guilty of murder.
Former medical student Hassan Mustafa attacked Khalid Yousef, 28, at a branch of Paddy Power in Handsworth, Birmingham, on 4 January.
A jury at Birmingham Crown Court found Mr Mustafa not guilty by reason of insanity on Thursday.
Mr Mustafa, 35, formerly of Stratford Road, Sparkbrook, was made subject to a hospital and restriction order.
He cannot be released back into the community without the authorisation of the Secretary of State.
Sudanese nationals Mr Mustafa and Mr Yousef had been friends for years and previously lived together. The pair had sought asylum in the UK five years ago, according to the prosecution.
During the trial, the court heard the store manager set off an anti-robbery "fog cannon" in an effort to halt the attack.
A fight broke out between the pair outside the bookmakers after they had gone outside to smoke, West Midlands Police said. Mr Yousef, attempting to get away ran back into the bookmakers where another fight broke out.
He was stabbed multiple times and decapitated by Mr Mustafa who had been armed with four knives during the fight at around 12:40 BST.
The pathologist observed the mutilation had been "carried out with some skill" - possibly reflecting on the training the defendant received studying for medical qualifications.
The Crown's barrister said that at the time of the killing, Mr Mustafa held "a delusional belief that he and the deceased were both 'extraordinary gentlemen' who were in competition for treasures".
Det Insp Jim Colclough, from the force's Homicide Unit, said: "This was a horrific and unprovoked attack on a young man who had his whole life ahead of him."