Great-uncle who killed girl suffered from a 'brain tumour'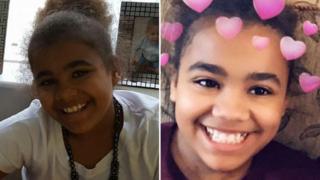 A man who bludgeoned to death his 11-year-old great-niece, was suffering from a brain tumour, a court heard.
Delroy Forrester, 51, admits killing Jasmine Forrester at a Wolverhampton house in February, but denies murder on the basis he was "legally insane".
The city's crown court heard Mr Forrester had a brain tumour removed in 1999 but it had re-grown.
Psychiatrist Dr Dinesh Maganty told the court the tumour meant Mr Forrester had a lack of control over his actions.
He said on the trial's second day the tumour had taken over the rational part of his brain.
"Because the frontal lobe controls his inhibitions, he had a complete lack of control over his actions and emotions.
"There is clear evidence of a brain tumour. Clear evidence of epilepsy and psychosis."
On Monday, the court heard Mr Forrester's daughter, Tyler, had called the crisis team at Penn Hospital in Wolverhampton hours before the killing to ask for help as he had been acting strangely.
As Mr Forrester was not present or considered a risk to others, she was told there was nothing they could do.
She told the crisis team: "You had better make sure that he doesn't kill my Nan tonight."
Police were called to the house of the 79-year-old defendant's mother, Jasmine's great-grandmother, in Kent Road.
Mr Forrester, formerly of Lower Villiers Street, Blakenhall, used five table legs and inflicted over 100 wounds on his great-niece.
The court heard he was heard to say by an officer at the scene "the devil had to die, I kill her blud" and "the devil is dead".
The trial continues.