Uber Eats cyclist pictured pedalling on M5 in Oldbury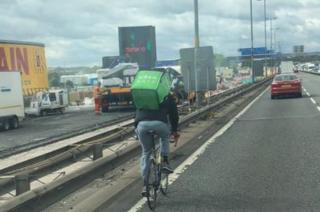 A cyclist carrying an Uber Eats backpack has been pictured pedalling along a motorway in the West Midlands.
Watch Commander at Oldbury Fire, Adam Joyce, tweeted the image urging the company to "educate riders" so his team "aren't lifting a HGV off them".
Mr Joyce said the man was cycling along the M5 in Oldbury, near junction 2, on Tuesday morning.
Uber said it was investigating and that "the safety of customers, couriers and the general public is a top priority".
In response to Mr Joyce's tweet, one user said: "Wow no words".
Another echoed this adding: "Wow just wow who in there (sic) right mind thinks that's safe."
An Uber spokesperson said: "We're currently investigating this incident. All couriers are required to adhere to the Highway Code and any report of a courier breaching road laws can result in being removed from the Uber Eats app."