Cyclists blame navigation app for Aston Expressway trip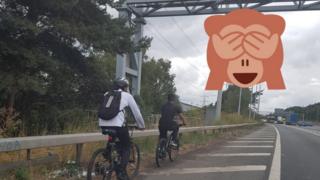 A pair of cyclists strayed onto a busy motorway after being directed by a navigation app, police said.
The teenagers were seen pedalling along the Aston Expressway in Birmingham and onto the M6 on Monday afternoon.
Police said the hard shoulder was closed to allow officers to escort them off the motorway. The pair were then advised about road safety.
Officers tweeted a picture of the pair captioned: "Oh dear, they decided to follow a popular navigation app."