Man kidnapped and robbed in 'fake' taxi in Birmingham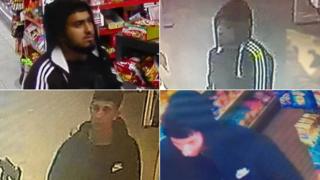 A man was kidnapped by a fake taxi driver, beaten and forced to hand over his bank card before being dumped in a Birmingham street, say police.
The 29-year-old man was offered a lift for £10 on Broad Street and then plied with alcohol.
He was bundled into a second car, where he was attacked by four Asian men who took his card, before driving him around the city and kicking him out.
CCTV images have now been released of four men police want to trace.
The photos are of men suspected of withdrawing funds and using the stolen cards in the days following the kidnapping, which occurred at about 04:00 BST on 24 June, a spokesman added.
Anyone who recognises the men is asked to contact West Midlands Police.
Det Con Andrew Reid urged people to use licensed taxis.
"Although offences like this are extremely rare, there is always a risk when approaching taxis on the street or getting into a taxi that has approached you," he said.
"Many people may not know this, but if a driver asks if you require a taxi they're actually committing a criminal offence."