Midland Metropolitan: Government urged to fund build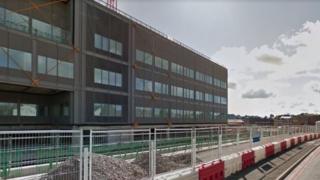 The government is being called upon to commit funding to restart work on the Midland Metropolitan Hospital.
Building of the hospital in Smethwick came to a halt in January when Carillion went bankrupt.
Sandwell councillors said the longer it is left to deteriorate, the more money it will cost in the long run.
It comes after the government wrote to the council saying it was would "ensure that construction is carried out in the best interests of the taxpayers".
Earlier this year, Sandwell and West Birmingham Hospitals NHS Trust chief executive Toby Lewis said delays to the build following the collapse of Carillion will cost eight figures.
BBC News revealed the hospital would cost at least £588m over a 30-year contract, while it was also reported that the collapse of the contractor could see that rise further.
Sandwell Council leader Steve Eling said: "The building is in a state of deterioration now, so it's only going to get worse.
"The longer it goes on, the bigger the repair job will be and this will ultimately leave an even bigger bill for taxpayers."
The government response came after Sandwell Health and Wellbeing Board sent a letter in June which said the delay is causing uncertainty in the provision of local hospital services and raised concerns about the "spiralling cost of the building being left out to the elements".
On 17 July, Sandwell's full council meeting unanimously passed a motion calling on the government to commit the necessary funds to restart work and enable the opening of the hospital by 2022.
Once complete, the Midland Metropolitan will replace some services from Sandwell Hospital and City Hospital in Birmingham.
The hospital trust is working with the government and partners to get construction back under way.