Birmingham six-death crash road to get speed cameras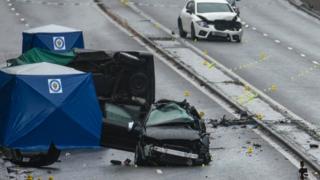 A stretch of road where six people lost their lives in a crash is set to have average speed enforcement cameras installed.
Three men died when a driver lost control of his Audi at 100mph and ploughed into a taxi on Belgrave Middleway in Birmingham in December.
Taxi driver Imtiaz Mohammed, 33, and passengers Lucy Davis, 43, and her partner Lee Jenkins, 42, also died.
The council-funded £90,000 project will enforce the existing the 40mph limit.
The Audi driver Kasar Jehangir, 25, died along with his passengers Tauqeer Hussain, 26, and Mohammed Fahsha, 30.
An inquest heard he had cannabis in his system at the time of the crash.
Thousands of people had signed a petition calling for safety measures on the road.
Birmingham City Council will now install the cameras along the 1.7 mile (2.8km) stretch of the A4540 Middleway corridor from the Five Ways roundabout to Haden Circus, covering Islington Row Middleway, Lee Bank Middleway and Belgrave Middleway.
The measure is likely to be operational by the autumn.
Councillor Ian Ward, leader of Birmingham City Council, said: "Given the long and complex nature of the resulting police investigation, it was important that we understood what had contributed to this truly heartbreaking loss of six lives before considering what safety measures could be put in place."
Supt Dean Hatton, head of Central Motorway Police Group and West Midlands Force Traffic Unit, added: "We welcome the introduction of any measures that improve safety on our roads."