Judge in appeal to find West Midlands baby and pregnant mum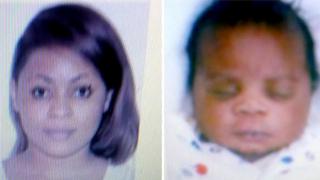 A High Court judge has issued an urgent appeal for help finding a 16-month-old boy and his pregnant mother.
Arrest warrants have been issued for Eunice Kyerah, who is more than 30 weeks pregnant and from the West Midlands, and husband Richard.
Mr and Mrs Kyerah could be with their son Joeking, who was born in February 2017, in the Croydon area.
Mr Justice Keehan said on Friday it was "of the gravest possible urgency" that Joeking was found.
He said the baby might have been taken by his parents over fears he would be removed from their care.
Social services bosses at Sandwell Metropolitan Borough Council had welfare responsibilities for Joeking and had begun family court litigation.
The judge said evidence suggested the youngster had been "spirited away" by his mother and father.
Lawyers representing social workers said Mrs Kyerah had lived in Tipton, West Midlands, and was believed to have stayed in Great Yarmouth, Norfolk.
At the Family Division of the High Court in London the judge was told that Mr and Mrs Kyerah, who are originally from Ghana, had links to the West Midlands, south Wales and Norfolk.
The judge said all efforts to trace Joeking had failed and it was time to reveal his identity and ask the public for help.
They say Mrs Kyerah is around 5ft 6ins and Mr Kyerah is a little shorter.