Lorry driver sentenced over bike death in Birmingham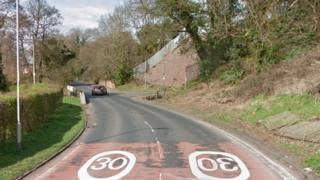 A lorry driver who admitted causing the death of a cyclist has been sentenced to a 12-month community order.
Stephen Moorman, 49, failed to ensure the leg of a crane was properly secured on the back of his HGV.
The loose part rolled out in Peterbrook Road, Shirley and struck Ella Murray. The 70-year-old died from her injuries in hospital.
Moorman, who was charged with death by careless driving, will also carry out 120 hours of unpaid work.
Crown prosecutors said Moorman, of Maisemore Close, Redditch, began to stow away the supporting legs, but "failed ensure that the nearside leg of the crane was properly secured."
Ms Murray was knocked to the ground on 20 March 2014 and died at the Queen Elizabeth Hospital.
Experts found several faults with the crane and the lorry company did not hold any valid certificates of examinations for their vehicles.
Buildland Limited, which employed the driver, and its managing director Rugbir Jutla, 53, pleaded guilty to failing to make suitable and sufficient assessment of risks to health and safety.
Jutla, from Stratford Road, Hockley, was jailed for 21 months and ordered to pay costs of £25,687, with the company fined £300,000 and costs of £25,687, following a hearing in March.