Kayden Walker: Bilston baby was 'forcefully shaken'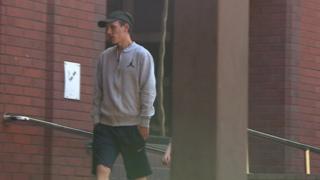 A six-month-old baby died from his injuries after "forceful shaking" at the hands of his father, a court heard.
Birmingham Crown Court was told Kayden went into cardiac arrest at his home in Walnut Close, Bilston, West Midlands, and was pronounced dead in hospital about an hour after his father, Ricky Walker, dialled 999.
Opening the trial, prosecutors said the baby was "almost certainly" the victim of shaking.
Mr Walker, 27, denies murder.
Kayden's mother Laura Davies, 25, denies causing or allowing the death of a child, and a charge of child cruelty related to allegations of an earlier injury.
In opening statements, David Mason QC, told the court the prosecution said the boy was murdered by his father when his mother was out of the house they shared.
He added: "The evidence in this case will show that, just before Kayden's collapse and that call to the emergency services, he was almost certainly the victim of an episode of forceful shaking, involving an impact to the head."
The court heard Mr Walker offered "no realistic alternative explanation", telling police a hoodie he used as a blanket may have ridden up over his son's face, causing him to stop breathing.
He told officers he had tried to rouse Kayden by shaking him three or four times.
Jurors also heard a second cousin of Ms Davies had been "surprised" at the defendants' behaviour when released on bail following the death.
Mr Mason said: "He was surprised that the two of them were apparently bragging about their time in the cells. He had been expecting them to be upset over what had happened."
Mr Walker also denies charges of causing or allowing death and child cruelty.
The trial continues.