Two thirds of residents in Rugby tower blocks rehomed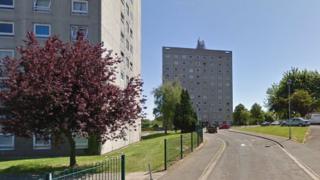 Almost two thirds of residents who have to move out of two tower blocks over fire safety concerns have moved or have accommodation lined up, a council said.
In April, 155 people who live in the flats in Biart Place, Rugby, were told to leave by the council after a survey queried fire resistance capability.
Rugby Borough Council said it is "pleased" with the progress it has made in finding new homes for tenants.
However, some have concerns about the rehousing, a ward councillor said.
The decision to move tenants from Fairway and Green Court was made following a survey by the council, which highlighted issues with fire resistance, poor quality concrete and corroding steel.
Eastlands ward councillor Neil Sandison said some residents have voiced concerns over "where they will end up and how they can keep in touch with other vulnerable relatives in the area".
"They have also want a straight answer as to the future of the flats - will they be staying up for refurbishment or demolished," he added.
Gene Parker-Brombley, 25, who has lived in Green Court since 2016, said he has now received the keys to his new home.
He said: "We were concerned about the blocks not holding up in the event of a fire.
"It made me really nervous to think if one day a fire happened, as we are on the sixth floor."
In a statement the council said: "We are pleased with the progress that we are making to find suitable alternative homes for our tenants and their families.
"So far residents of nearly two thirds of the affected properties have either already moved or have arrangements in place to move to another home that meets their needs."