Stem cell match brother gets visa for Walsall sister op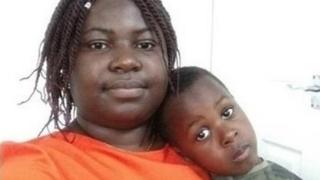 A man from Ghana considered a "perfect" stem cell match for his ill sister can visit the UK to help after the Home Office reviewed the case.
Joseph Kordie was denied a visa to help Shirley, 33, of Walsall, who "urgently needs" a transplant to survive a rare blood cancer, a charity said.
The Home Office said it has issued a six-month visa and was working with him so he can travel as "soon as possible".
Some 78,000 people backed a petition calling for a visa to be granted.
The Anthony Nolan Trust and the African Caribbean Leukaemia Trust (ACLT) launched a campaign to support Ms Kordie, who has been receiving treatment at Birmingham's Queen Elizabeth Hospital.
Midlands Live: Two arrested on suspicion of murder; fire at beauty spot
Ms Kordie has hypoplastic MDS and will leave her son, Blessing, four, without a mother if she is not treated, they said.
The Anthony Nolan Trust said her brother was initially refused a visa because "he doesn't earn enough money".
The online petition, begun by the charity's Simon Butler, said "time is running out" for Ms Kordie who had become "entirely reliant on blood transfusions to reduce her life-threatening anaemia".
What is a stem cell transplant?
Stem cells are the body's primary cells. All other cells, tissue, organs and bones develop from stem cells.
Blood stem cells, found in our bone marrow, are responsible for creating lots of different types of blood cells.
For 90% of donations, cells are collected through the donor's bloodstream in a process called peripheral blood stem cell collection (PBSC).
Their blood is passed through a small tube into a machine that collects the stem cells, and then returns the rest of the blood to the body.
In order to have a stem cell transplant, the recipient must get rid of the abnormal cells using chemotherapy and sometimes radiotherapy.
New stem cells will then be infused into the recipient's blood in a similar way to a regular blood transfusion.
When the new stem cells enter the recipient's blood, they move to the bone marrow and start producing new blood cells. Over time, this leads to the development of a new immune system that can recognise and remove any remaining abnormal cells in the body.
Source: Anthony Nolan Trust
Joseph, a nurse, is unable to make the donation in Ghana, so coming to the UK is his only option, said the Anthony Nolan Trust.
Spokeswoman Amelia Chong said: "Her brother is a perfect, 10 out of 10 match for her.
"We have reviewed all those on the donor list and he is not only the perfect match, he is the only match."
The Home Office said last week it was "urgently reviewing" the case and would give "very careful consideration to the compassionate circumstances".