Nurse suspended over woman's pool water brain injury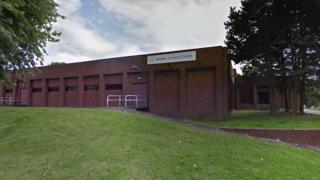 A nurse has been suspended after a woman in her care drank water from a swimming pool, leaving her with a life-limiting brain injury.
Carole Halstead had allowed the 19-year-old, who has autism and the mental age of a young child, to drink the water despite warnings.
The incident happened on a trip to Dudley Leisure Centre in July 2014.
Care firm Freetime Care Services, of which Mrs Halstead is a director, said it expressed its "sincere apologies".
The young woman's mother said she warned Mrs Halstead three times of the need to limit her daughter's swimming session to 10 minutes because of her habit of drinking pool water, a Nursing and Midwifery Council report said.
Mrs Halstead was seen to be chatting to a colleague whilst the woman drank the pool water during the session, which it was claimed by one colleague lasted 40 minutes, according to the report.
Following the swim, the 19-year-old later began vomiting water, before falling into a coma.
She was treated for brain swelling caused by drinking excessive water at Queen Elizabeth Hospital in Birmingham. Doctors said her life expectancy was significantly reduced and she is now totally dependent on carers.
Mrs Halstead denied being told about the 10-minute rule but admitted not preparing an adequate risk assessment. A panel found she had also failed to prevent the woman consuming too much much water and failed to limit the time in the pool to 10 minutes.
The panel decided to suspend the experienced nurse of 24 years for 12 months from practising.
Freetime Care Services, based in Halesowen, is used by Dudley Metropolitan Borough Council to care for residents.
In a statement, the firm said: "Freetime is taking every step possible to improve their processes in the light of the NMC's findings."