Sutton Coldfield farm fire could be seen for miles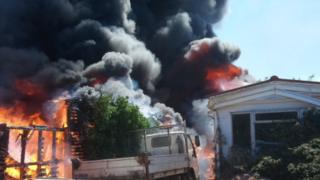 A huge fire has completely destroyed a farm building near Birmingham.
Plumes of thick black smoke from Holly Lane, Wishaw, near Sutton Coldfield, could be seen from Birmingham's city centre, about 13 miles away.
At its height, 50 firefighters from West Midlands Fire Service "surrounded" the fire which broke out during the afternoon.
The operation was scaled back after two hours, with remaining fire crews damping down the area.
Six fire engines had initially been sent to the scene, but four other crews were dispatched over fears the flames could spread.
Crews were alerted to the outbuilding, situated near The Belfry, fire following at least 15 phone calls by members of the public.
A fire brigade spokesman said: "The fire in Holly Lane, Sutton Coldfield is now surrounded.
"We will soon be reducing the number of fire engines and firefighters at the scene, although around 30 firefighters will continue to tackle the blaze."