World Cup 2018: Is Paul Dubberley England's biggest fan?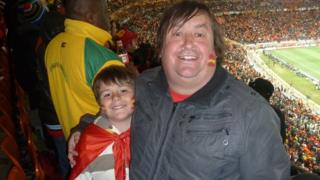 Could this be England's biggest football fan?
Paul Dubberley, 58, has been travelling the globe watching the national team in World Cup bids for more than 30 years.
His first competition was Mexico in 1986, where he witnessed Maradona use his infamous "hand of God", and he has been to every tournament since.
Mr Dubberley, of Aldridge, in the West Midlands, said the "atmosphere" and the fans he meets bring him back each time - and love of the beautiful game.
He even went to the United States in 94, when England failed to qualify, but said it wasn't just watching the home nation he enjoys.
He also uses the tournaments as a chance to travel, saying: "The World Cup is a great way to do it.
"With Japan, I went overland and we travelled through places like Iran and Pakistan.
"After Mexico, I took a year off work to travel the world."
Joined on the latest trip by fellow West Brom fans, he said: "All the Russians I have met have been really friendly.
"I've met people from Iran, Brazil, you don't get to do that being in Birmingham."
Talking of going to Mexico in 1986, he had no idea how memorable Maradona would make that particular tournament.
"I bought my ticket for the match for £12," he said.
"Out here I got talking to someone and said I saw the 'hand of God' at my first World Cup finals and he couldn't believe it."
You may also like:
Now he also travels with son Jack, now 19, who went with him to South Africa 2010, for his first World Cup.
"Nelson Mandela came on to the pitch, which was great for him," said Mr Dubberley, "It is always a different experience."
Mr Dubberley said he was "optimistic" about England's chances.
"I think sometimes, when there isn't so much expectation, we do better," he said.
"If we get knocked out, I'll still watch other games."