JLR: Solihull workers react to Land Rover production move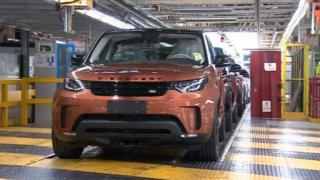 Jaguar Land Rover (JLR) has announced it will move production of its Land Rover Discovery from the West Midlands to Slovakia from next year. Workers based at the Solihull factory, where the Discovery is manufactured, have reacted to the news.
For workers arriving for their shift at Solihull's Jaguar Land Rover plant, some were unsure as to how the move will affect them. Others have spoken of their fears about the future.
While JLR - which is owned by the Indian group Tata Motors - has said it remains "committed to the UK", the company has warned there may be some job losses as a result.
There are 1,800 agency workers in the Solihull plant, out of a workforce of 10,000.
Land Rover Discovery model moved to Slovakia from the UK
JLR had previously said the manufacture of the Discovery would be split between Solihull and Slovakia.
The Solihull plant will be used to build a new generation of Range Rover models.
Sergei Udolec, who works on the Solihull production line and has been at JLR since 2012, said the news may be "pretty bad" for agency staff.
He said: "It's not clear what is going to happen. I think they have to be clear. But it's hard to know at the moment. I'm trying not to think about it. But it may be pretty bad news for agency staff."
Matthew Thomas, an engineer based at the site, said: "I've been here about three-and-a-half years. Already around 1,500 people have lost their jobs from JLR.
"I'm on a permanent contract so it won't necessarily affect me. But also we don't know how it's going to affect people anyway, it could be a positive thing, with the investment here. We just don't know yet."
One worker, who has been with JLR for 29 years, but did not want to be named, said: "I think it's wrong to blame Brexit for this. We have to look closer to home.
'Downturn in market'
"I feel sorry for the temporary staff, because with this news they can't plan, they can't think too much about the future."
Chris Fry, who works for car supply company Draexlmaier Automotive at the site, blamed a "downturn in the market".
"We've known about it since before Brexit, that this type of thing would happen," he added.
Nigel Kent, who works for JLR contractors DHL and has been based at the site for five years, added: "I think it is bad news for the temporary staff, of course.
"I think because JLR will have bases in Slovakia and they already have one in Brazil, it may not be long before they move production out. But I don't think it'll be soon."
In 2016, JLR announced job and production changes to its site in Castle Bromwich.
One worker who had recently moved from Castle Bromwich to Solihull said the announcement left things "a bit up in the air" for them.
Unions had been in talks with JLR in Solihull on Tuesday morning.
Unite national officer Des Quinn said: "Jaguar Land Rover's investment into its Solihull plant and confirmation that the next generation of Evoque will be built at Halewood in Merseyside secures the long-term future of both plants.
"Unite is in advanced discussions about securing Castle Bromwich's future in tandem with these two sites.
"The investment is a long-term commitment that recognises the skills of a workforce that has worked hard to make Jaguar Land Rover a global success story.
"Those workers though will have questions about what the transition to the new production platforms means for their jobs and livelihoods in the short term.
"Unite will be working with Jaguar Land Rover over the coming weeks and months to ensure a managed transition that is as painless as possible and retains jobs and skills for the future."
Unite regional officer Darren Hall said the union would be fighting to "protect agency staff" and "negate the impact" of the end of Discovery production at the site next February.
Mr Hall, who has been taking part in the site meetings, said many of the contract workers, employed via Manpower, were Unite members.
An agreement meant contractors were usually taken on by JLR after five years at the firm, he said.
Some had been on contracts for three or four years so were approaching the cut off point.