TSB couple 'lose thousands' to fraudsters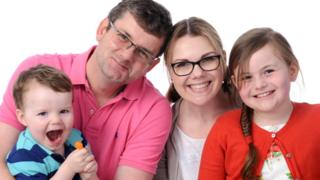 A couple who bank with TSB lost "thousands of pounds" to fraudsters days after opening accounts with the bank.
Sarah Lewis, 38, and husband Carl, 50, from Solihull, first became aware of the fraudulent activity in their new joint TSB account on 16 May.
Despite the account being frozen, further fraud took place.
The pair were told they could only withdraw cash in branch and would no longer have access to their account.
TSB has been contacted for comment.
The pair, who have two young children, were first alerted to the fraud when Mr Lewis was attempting to pay for an emergency passport to visit his mother who had been taken ill in Lisbon.
The transaction was declined, but they presumed it was because the account was new.
The bank's fraud team contacted the Lewis' to tell them a £1,000 transaction had taken place, appearing to originate from Nigeria.
The account was frozen by the fraud team on 25 May, with the bank telling them they could only withdraw cash in branch and could no longer get internet or mobile access to their account.
"Then more and more transactions happened," Mrs Lewis, a recruitment operations director, said.
Mrs Lewis said the couple have spent a total of about six hours in store trying to sort it out.
"The branch has been helpful, but the fraud line they call is the same one customers call, so we've ended up waiting for hours."
The couple still do not know the full amount of money they have lost but have been told it is in the "thousands".
"When the first fraud happened, I moved my salary to another bank, so we're living off that."
"We both work full-time, so it's really difficult to get into branch to get cash and with my poorly mother-in-law, it's all been really stressful".
The introduction of a new IT system in April left TSB customers struggling to make transactions and see their balances.
The bank said it would compensate customers in full for any fraud they suffered. Fraudsters have "exploited" the bank's IT problems, with 1,300 people losing money, an inquiry heard on Wednesday.