Flash flooding shuts two Birmingham schools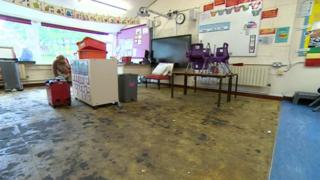 Two Birmingham schools will shut for at least week due to major flooding in the city last month.
Pupils should have returned to Woodthorpe Primary School and Grendon Primary School in Kings Heath on Monday after half term.
Nearly every classroom at Woodthorpe is ruined, while the council said "severe damage" has been caused at Grendon.
Birmingham City Council said it was supporting parents who cannot find alternative child care.
Parts of the city saw more than a month's rainfall in an hour on 27 May - a bank holiday weekend - which saw some homes being flooded for the third time in nine years.
Due to the holiday, the damage to Woodthorpe was not discovered for two days.
Linda McGrath, head teacher at Woodthorpe, said carpets have been ripped out of corridors because they were "sodden with water and growing thick mould".
The staffroom carpet has also had to be removed due to water damage after only being refurnished during February's half term.
Roof repairs were also needed as well as new flooring inside the school, she said.
Closing the school this week was a "very difficult decision", she added, but it was a necessity due to the health and safety of everybody involved.
"I'm absolutely gutted," she said.
"I'm really, really disappointed. We're going to be working with the school and we're going to work with the council from this point to look at ensuring that this doesn't happen again."
A statement on the website of Grendon Primary School stated that "huge amounts of work" were required after a "disastrous flood".
A video filmed by school staff showed the damage to some classrooms.