Smethwick hospital: Carillion delays to cost eight figures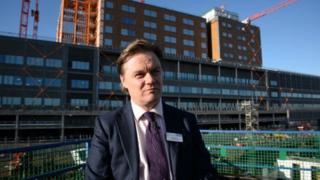 Delays on a hospital build following the collapse of Carillion will cost eight figures, a health trust boss said.
Work on the Midland Metropolitan in Smethwick came to a halt in January when the contractor went bankrupt.
Hospital trust boss, Toby Lewis said exposure to the elements means some sections could require "rework".
In March, a scheme to transfer the build to a new contractor also stalled and is unlikely to go ahead, he added.
In a report to Sandwell Council, the chief executive of Sandwell and West Birmingham Hospitals NHS Trust, which is behind the new hospital, claimed if the building is not weather-proofed by winter, costs will rise further.
The trust has said the hospital will not open before 2022 at the earliest, at least four years later than planned.
Mr Lewis said: "We need to get people on the site, reducing the deteriorating of the site with the weather and preventing us having to rebuild parts of the two-thirds built hospital.
"We need to agree with government and others how best we can do that."
The exact cost of the work needed is not yet know, but Mr Lewis said it "will be in eight figures."
Earlier this year, it was reported that the collapse of Carillion could see the cost of building the hospital rise.
The Wolverhampton-based firm won a £75m contract for the 670-bed hospital in December 2015.
Once complete, the Midland Metropolitan will replace some services from Sandwell Hospital and City Hospital in Birmingham.
The report will be discussed by Sandwell councillors at a meeting on 7 June.
It comes as the official receiver revealed 29 former Carillion workers had been made redundant and would leave this week, bringing total job losses to 2,332.