Progress made to improve child services in Dudley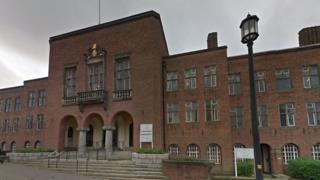 "Positive" steps are being made by a council to improve services for children, a report said.
Ofsted has inspected Dudley Council's child services for a sixth time since it was rated "inadequate" in 2016.
The council's work is "improving the lives of an increasing number of children and families., the latest inspection report said.
The council said it shows its work was "continuing to move in the right direction".
During the inspection, which took place at the start of the month, inspectors visited two of the borough's five family centre hubs and read electronic case records and supervision records, as well as meeting with social workers, family support workers and team managers.
In the report, published on Tuesday, it said the quality of early help services has improved since the last inspection and more children are able to use it.
Angus Lees, cabinet member for children's services, said the council had worked hard to improve matters.
"Although we are making positive steps, we will not rest on our laurels. We know there are still areas where improvements need to be made and we have plans in place to address these as we continue to move forward."
The council is due to have a further monitoring visit in August, before a full inspection later this year.