West Midlands firefighters vote for strikes in contract dispute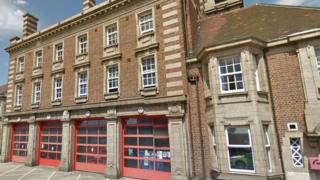 Firefighters in the West Midlands have voted nine to one in favour of strikes in a dispute over contracts for new recruits, the Fire Brigades Union said.
Turnout was 82% and about 1,100 members were balloted.
The new contracts were "exploitative of the newest employees" in the service, the union said.
It called on the fire authority to withdraw the contracts now. The fire service said it was committed to continuing discussions with the FBU.
The contracts would allow firefighters' work to be unilaterally changed at any time breaching nationally negotiated agreements with the union, it said.
The FBU said the result of the ballot was "overwhelming" and it was awaiting the authority's response before deciding its next move.
Chair of the union in the West Midlands Andrew Scattergood said: "We have a mandate to take strike action and we will do if these contracts are not removed."
The fire service said it would "assess the situation" over the coming days.
A spokesperson said it had received formal notification from the union of the ballot's outcome and acknowledged its result.
The spokesperson said: "We remain committed to continuing discussions with the FBU as we seek to find a negotiated resolution whilst providing the best possible service to the communities of the West Midlands."