UK police probe William Baekeland travel fraud claims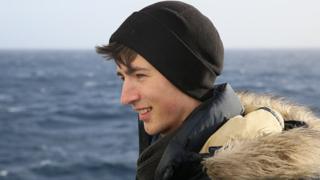 A former travel company boss accused of posing as a wealthy heir and taking cash for non-existent trips is being investigated for fraud, police have confirmed.
William Baekeland, ex-director of Atlas Travel and Expeditions Ltd, is accused of conning customers out of thousands.
Travellers said they believed 25-year-old Baekeland was formerly called Jesse Gordon, and from Sutton Coldfield.
An associate denied Mr Baekeland was involved in any sort of fraud.
Midlands Live: Murder investigation after teenager stabbed; Flash flooding damage put at £10m
London-based Harry Mitsidis, who runs extreme travel website Nomad Mania, claims he lost more than £25,000, paid to Mr Baekeland for three different trips.
He said their paths crossed in March 2016 on Polar cruise ship the Ortelius, heading to Bouvet Island in the south Atlantic.
During the 35-day expedition, Mr Mitsidis said, Baekeland told fellow explorers he was the great-grandson of Leo Baekeland, creator of Bakelite.
'Bogus'
On board the ship, Mr Mitsidis said, he was encouraged, along with others, to book "extreme" trips through Mr Baekeland, who claimed to be an experienced traveller.
A first trip went ahead, which spurred Mr Mitsidis to book further expeditions which never took place.
He has made a complaint to Action Fraud, which has been passed to West Midlands Police.
The force said it was notified on 22 March of "allegations against a man accused of defrauding members of the public through a bogus holiday company."
A spokesman said: "It's alleged the suspect was behind a firm that left people thousands of pounds out of pocket having promised exclusive holidays to exotic locations.
"The suspect is linked to an address in Birmingham, plus another in Ireland, and officers are currently liaising with the Gardaí."
Atlas Travel and Expeditions Ltd, no longer lists Mr Baekeland as a director on Companies House.
Its website has also been taken down.
Josh Radcliffe, the remaining company director, said there is no accusation the company itself took any money from customers.
He said he was "confident" Mr Baekeland's "involvement in the world of extreme travel is and was entirely genuine".
"He has, as a matter of record, organised and executed many trips for himself and other travellers," he said.
"His financial problems came about as a result of over trading and not as a result of deliberate fraud."
Mr Radcliffe said it was Mr Baekeland's "sincere hope and wish" to repay his genuine creditors but he was currently occupied with clearing his name.