Street gunfire heard and man injured in Saltley, Birmingham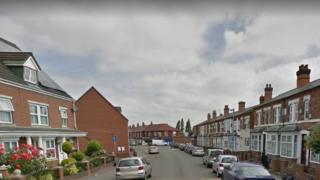 Police are investigating after reports of gunfire on a residential street.
Armed officers were sent to College Road, Saltley, Birmingham, at about 18:20 BST on Saturday, to reports of a gunman with two accomplices in the area.
About 30 minutes later, an 18-year-old man arrived at Heartlands hospital with a non-life threatening gunshot wound to the arm, police said.
The road remains closed.
A detailed search of the scene was due to take place on Sunday.
In a statement, West Midlands Police confirmed a car had been removed from the area for a "detailed forensic examination".
"Active inquiries are underway to trace the attackers and to understand their motive", the statement said.