Sutton Coldfield stabbing: Boy, 17, hands himself in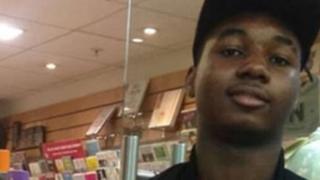 A 17-year-old has been arrested on suspicion of murdering a boy who was stabbed on a busy shopping street.
The victim, named locally as Ozell Pemberton, 16, was found injured at about 15:30 BST on Thursday at Lower Parade in the main shopping area of Sutton Coldfield, north of Birmingham.
West Midlands Police said the suspect handed himself into a police station in the early hours and remains in custody.
The attack reportedly took place near a McDonald's and a group of bus stops.
Police said there had been disorder in the area at the time and several people were seen fleeing.
The ambulance service said despite its "tremendous efforts", Ozell was confirmed dead at the scene.
Police said he has has not yet been formally identified and a post-mortem examination will be held in due course.
But a tribute to Ozell was released by his former school earlier.
"We were deeply saddened to hear about the tragic death of one of our former pupils and our thoughts and prayers are with his family," a spokesperson for Greenwood Academy, Castle Vale, said.
"For our part, we are providing counselling and support to our pupils and staff to help them through this difficult time."
Staff said he last attended the school in November 2015.
Councillor David Pears, who represents the Sutton Trinity ward, described the violence as "appalling".
He added: "My sympathies go out to this person's family and their friends.
"I think people want to feel safe; it's really important that police take action very quickly."
Analysis by Sima Kotecha, BBC Midlands correspondent
Unfortunately fatal stabbings in Birmingham are nothing new.
This crime happened in the affluent area of Sutton Coldfield and in the middle of the afternoon.
The age of the victim is also unnerving; just 16 and killed as a result of what officers call "disorder" involving several people.
At a time when police resources are stretched in the region and crime rates are soaring, there is a palpable fear among some residents who are repeatedly saying that they just don't feel safe anymore.
That fear is particularly prevalent among the older generation, but the victims in many of these violent cases are young men and boys.
Part of Lower Parade remains sealed off for investigations to be carried out.
West Midlands Police Assistant Chief Constable, Alex Murray, said: "This is a tragic set of circumstances and our thoughts, and I'm sure the thoughts of everyone in the community, are with the boy's family at this truly devastating time.
"A dedicated team of homicide detectives has worked non-stop on the investigation since yesterday and has made good progress."
Mr Murray added: "We need parents, community leaders, schools and young people themselves to pass the message that it is never OK to carry or use a knife."
David Jamieson, the West Midlands Police and Crime Commissioner, said "much more needs to be done".
"This is another stark reminder of the importance and responsibility we all have in ending violence in our communities," he said.
Mr Jamieson said he was spending an extra £2m "tackling violence" over the next two years.
Knife crime in the West Midlands
The number of fatal knife crime offences in the West Midlands in 2017 was 22, double that of 2015
The total number of knife crime offences reported to police in 2017 was 4,955
In 2016, that number was 4,278; while in 2015 the figure was 3,466
Source: West Midlands Police