Events cancelled at Wolverhampton fire-struck venue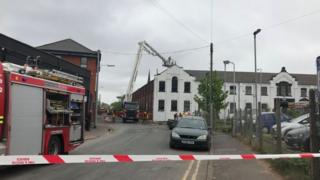 Two weekend events at a music venue have been cancelled following a fire.
About 50 firefighters tackled the blaze at the two-storey Starworks Warehouse on Frederick Street in Blakenhall, Wolverhampton, on Wednesday.
The Reload Wonderland and Wonderland events, which were due to take place this weekend, have since been cancelled.
A full statement on the fire is due to be released by Starworks Warehouse on Thursday.
On its website, the venue says it is a 40,000 sq ft event space, which was built in 1903.
It was formerly the home of the Star Motor Company, a mass car producer, but now holds music festivals, art exhibitions, street food events and vintage fairs.
The cancelled Garage and Bass music events were both due to take place on Saturday.
A statement posted on the venue's Twitter page on Wednesday evening said: "Due to the fire this morning at Starworks Warehouse, Reload in Wonderland and Wonderland will be cancelled this weekend."
Previously, the venue has hosted the likes of PJ Harvey, Radio 1Xtra's MistaJam and it is due to host An Evening with Paul Gascoigne in July.
Wayne Scott-Fox, one of the managing directors at Starworks, told the Express and Star no-one was injured and their main concern is public safety.
"Where we go forward with this depends on the structural damage to the building.
"We will come through, we will work it out," he said.