Tom Kirwan: £20,000 reward offered for brawl stab death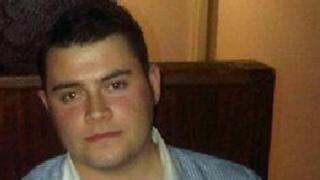 The family of a man murdered five years ago are appealing for information to find his killer on what would have been his 29th birthday.
Tom Kirwan, 23, died in July 2012 after an altercation between a large group of people outside the former Uberra nightclub in Wolverhampton.
No-one has been charged over the Wolverhampton man's death.
A reward of £20,000 is now being offered for information leading to the conviction of his killer.
Six people have previously been sentenced for affray and public order offences.
Tom's mother Emer Kirwan said it had been a brutal and and mindless attack.
"Someone knows who murdered my son that morning, why are you letting his killer get away with this?" she said.
Mr Kirwan, who worked in Bridgnorth, Shropshire, was stabbed and collapsed but later died in hospital.
One of his friends was also stabbed and suffered head injuries, but is still unable to remember fully what happened.
A joint reward of £20,000 has been offered by Mr Kirwan's family and Crimestoppers - they have previously offered £15,000.
Det Supt Tom Chisholm said the case was reviewed by the CPS in 2013 but it was found the investigations was "very comprehensive".
"Our investigation has never closed and every new piece of evidence will be considered and reviewed," he said.