RSPCA Birmingham animal centre in pet blanket appeal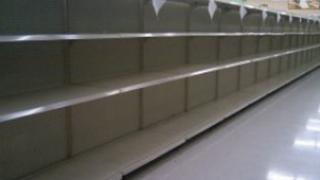 An RSPCA hospital has revealed its empty shelves and said it has run out of blankets for its rescued animals.
The Birmingham animal centre and hospital posted social media pictures of a bare container in an appeal for donations.
Their plea is for small blankets for cats and larger ones for dog kennels following a cold and busy winter.
The 39,000 sq ft centre, located in Newbrook Farm Cottage, Frankley Green, can hold more than 200 animals.
Posting on the centre's Facebook and Instagram accounts, the Birmingham animal centre said: "Our shelves are bare! We are desperately low on large blankets for kennels and smaller ones for our cats.
"If you have any to spare, please bring them along to our centre."
The centre - which can accommodate 60 dogs, 160 cats and 32 rabbits - re-homed 1,115 animals last year and said it cost £537,935 to run in 2016.
A spokeswoman said the charity prefers to receive donated items, such as blankets, to enable them to direct funds to areas of medical care.
Tough winter
Deborah Caffull, centre manager said: "It was a particularly tough winter this year with temperatures plummeting.
"We are particularly low on blankets at the moment for our cattery and kennels. We need large blankets for the kennels and some smaller ones for our cats, preferably of a fleece or similar material as these wash really well."
She said the RSPCA also needs lots more blankets to provide for fosterers who hand rear young kittens and also help settle older animals into a home environment.