'Substance' sprayed at taxi driver at Birmingham station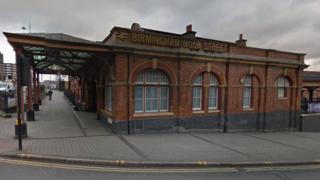 A taxi driver was sprayed in the face during a row at a railway station.
Three man and a woman approached him outside Moor Street station, Birmingham city centre, at 21:45 BST on Saturday.
The driver explained there was a queue and that they would need to wait their turn. One of the men then squirted a substance from a small canister into the driver's face.
The driver felt a burning sensation and was taken to hospital, but is not thought to have been seriously injured.
Police and firefighters from Highgate Station were called to the scene.
The three people ran off towards nearby Carrs Lane.
Police are appealing for information to track down the group.