Tenants protest outside Birmingham freeholder's shop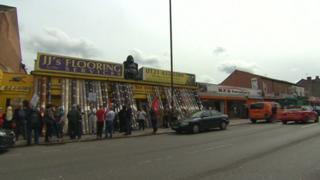 A group of tenants in Birmingham have staged a demonstration about the state of their privately owned flats.
Residents of Emperor Court on Pershore Road said their health was being affected by mould and damp and joined a tenants union to help get improvements.
They also staged the protest outside a shop belonging to the building's freeholder.
Mohammed Khan said although he owned the building, landlords of the flats were responsible for their maintenance.
Resident Darren Long said there have been problems for years: "Nobody seems to be coming in and getting the work done.
"We still have the rusty steel showing through, we still have the mould. The plaster is actually falling off the walls."
Sam Lowe, part of Acorn Tenants Union, which is supporting the tenants, said the seven flats were owned by six different landlords.
But she said the freeholder was responsible for communal areas and the shell of the building.
Because water is coming in from the outside, she claims it is up to him to get it fixed.
She added: "They are living in unhealthy, horrible conditions, where their children are getting ill, where they are getting ill."
The tenants have met with Birmingham City Council; officers from the private rented services team have done inspections and improvement works which are enforceable by the council are being carried out.
Mr Khan said it was a "complicated situation" and he does not receive a service charge from many of the landlords to maintain the building.
He said he was adhering to council recommendations on improving the outside.
A spokesperson for Birmingham City Council said a building management service is being brought in to help with maintenance and an environmental health officer is due to inspect the properties next week to ensure that work is done to an acceptable standard.
"Birmingham City Council will continue to monitor the situation, support tenants and pursue anyone who lets out unlicensed and/or substandard accommodation," it said.