Joe Lycett blasts litter louts over Cannon Hill Park mess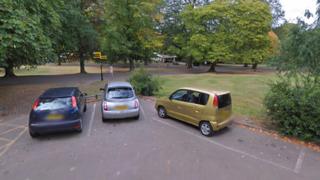 A comedian has blasted bank holiday litter louts after tweeting a picture of a park covered with dumped rubbish.
Joe Lycett posted a Twitter selfie showing plastic bottles and empty packaging strewn across the grass at Cannon Hill Park in Birmingham.
The 29-year-old, who lives in the city, urged people to "respect the park and the safety of the animals by putting rubbish in a bin".
Birmingham City Council, which manages the park, has been asked to comment.
The stand-up comic - who has appeared on TV shows including QI and Never Mind the Buzzcocks - was at the park on Tuesday.
He tweeted: "Hate to sound like your mother but if you enjoyed the beauty of Cannon Hill Park yesterday then the least you can do is respect it and the safety of the animals that live in it by putting your rubbish in a bin.
"Here's a selfie I took with your mess!!!"
One person tweeted: "I wish people would pick up after themselves and take it home."
And another added: "Wow that is truly awful! Cannon Hill Park is a lovely spot in the sun, too."
Parks up and down the country were busy as the UK basked in the hottest May bank holiday temperatures on record.