Local elections 2018: Labour holds Birmingham City Council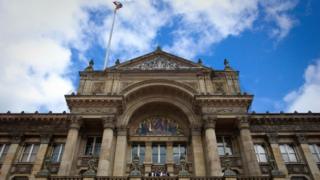 Labour has retained control of Birmingham City Council amid a change in ward boundaries and a reduction in the number of seats - of which every one was contested.
A total of 51 seats were needed for a majority, with Labour amassing 67 in new-look Birmingham.
Council leader Ian Ward said: "It could have been better, but it could have been far worse."
Julian Pritchard becomes the authority's first ever Green member.
His seat, representing Druids Heath and Monyhull ward, is one of 101 - down from the 120 formerly across Birmingham.
Tories form the city's second-largest block - they have 25 seats to the Liberal Democrats' eight and the Green Party's one.
Analysis by BBC political editor for West Midlands, Patrick Burns
The results in Birmingham look pretty close to the status quo.
Labour is down a little bit but not by much but there will be anxiety that they are losing support in white working-class areas.
At one point earlier it looked as though Labour had done significantly less well than expected and it would have been an immense shock if the Conservatives had taken control, but it later evened out.
It is a historic moment for the Green Party, which is celebrating its first seat on the local authority.
There are also signs of a Lib Dem revival in the area.
Despite the balance of power across a redrawn city looking largely similar to that before polls opened, Ian Ward lamented what he saw as a reaction to Labour's record amid the 2017 refuse collection row, during which bin men were on strike.
He said: "I do think that the aftermath of the refuse dispute and the amount of uncollected waste on the streets had an impact and the fact we didn't have any UKIP candidates for the first time in a long time and where that vote went will need to be looked at closely."