Tories are poised to take control of council in Walsall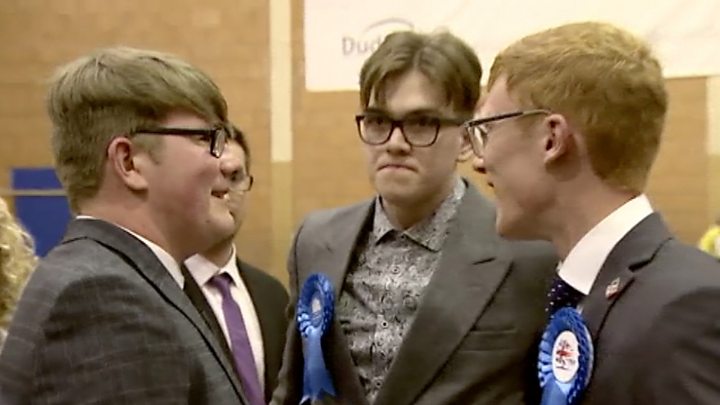 The Conservatives will attempt to take control of Walsall Council after finishing one seat short of a majority.
Group leader Mike Bird said he was confident he would lead the council for a fifth time.
In Dudley, the Tories and Labour are tied on 35 councillors each and UKIP lost all six seats it was defending.
West Midlands MEP Bill Etheridge, who lost his council seat, said he felt "let down" by UKIP leader Gerard Batten.
Live coverage of the Midlands council elections
Dudley UKIP group leader Paul Brothwood also lost his Wordsley seat.
The Conservatives' gain of six seats, five of which were formerly held by UKIP, means they now have 35 councillors on Dudley Council, the same as Labour who retained all of their seats.
In Walsall the Conservatives won five seats, giving them 30 overall out of 60 council seats, one shy of an overall majority, making them the largest party.
The prime minister tweeted "huge congratulations" to Councillor Bird.
They also made gains from UKIP, who lost all three of their councillors in Walsall.
Meanwhile, Labour lost two of their seats taking them down to 26 councillors. The party has been running the council as a minority administration.
In Wolverhampton Asha Mattu, the widow of mayor Councillor Elias Mattu, who died in February, successfully won his seat in Graiseley. Mr Mattu died at the age of 59 following an illness. He had been councillor for Graiseley for almost 18 years.
The Conservatives lost a seat to Labour in Penn, leaving the opposition party with nine, while UKIP lost its only seat in the city to the controlling Labour party.
The party had made its biggest gains in the borough in 2014, when the local elections coincided with ones for the European Parliament.
Twenty-six seats were up for election in Sandwell, all of which were held by Labour. The only opposition in Sandwell is from two independent councillors, whose seats were not up for election this year.