Doctor Who: Debut episode script sells for £6,200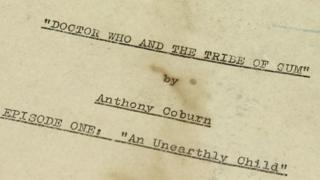 An original Doctor Who script for the show's debut episode has sold at auction for £6,200.
The script, belonging to the show's first Time Lord William Hartnell, was lost in the time vortex for 55 years before ending up in Dudley.
It was found at Hartnell's cottage in Mayfield, East Sussex, by a developer who gave it to his grandson.
"Doctor Who and the Tribe of Gum" aired on 23 November, 1963 and was expected to fetch between £5,000 - £7,000.
Steve Kennedy, auctioneer at Aston's Auctioneers in Dudley said the script, complete with pencil annotations from Hartnell, was "a real find" and had attracted a lot of interest from fans of the programme.
In the episode, the Doctor is introduced after the Tardis is discovered in a London junk yard.
Hartnell's first line, on page 24 of the script, is "What are you doing here?"
Antiques Roadshow featured the script in an episode on 31 December in which Chris Yeo described it as "the DNA of Doctor Who" and the "genesis of the programme".
You may also be interested in: