Midland Met Hospital opening may be delayed until 2022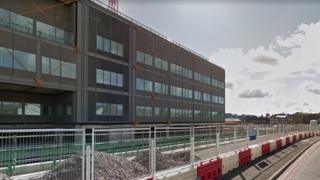 The opening of a new hospital could be delayed by a further three years, it has been revealed.
Smethwick's Midland Met Hospital was originally due to open in October.
The hospital trust had again put the opening back by a year to 2019 following the collapse of construction giant Carillion earlier this year.
However, a report has shown that now "a 2022 opening date is more likely" and that the site is "deteriorating", as first reported by the Express & Star.
The board of the Sandwell and West Birmingham NHS Trust is due to meet on Thursday to discuss the plans.
In a report, chief executive Toby Lewis said the trust was hoping for a 2020 hospital opening date, but admitted that a 2022 date was more likely.
He said: "What is apparent is that the site is deteriorating now and that rework costs will therefore be significant.
'Cut to chase'
"We continue to press for an early restart and therefore the most rapid route to a single acute hospital, which in our view could be achieved by 2020.
"Some options being considered make a 2022 opening date more likely, with certainty not achieved until early next year."
The news comes as earlier this year, it was reported that the collapse of Carillion could see the cost of building the hospital rise.
The Wolverhampton-based firm had successfully bid for a £75m contract at the 670-bed hospital. The trust said that a new contractor was needed and costs "may exceed" £75m.
The firm was awarded the contract in December 2015, and BBC News revealed that it would cost at least £588m over a 30-year contract.
Once complete, the hospital will replace large parts of Sandwell Hospital and City Hospital in Birmingham, such as the accident and emergency departments which are due to close. Some services will remain at both sites.
MP John Spellar, Labour MP for Warley, said: "The delay is causing a great deal of disruption to two other local hospitals and delaying improvements to the area as the new hospital will of course see new jobs and housing arrive in the region, to the benefit of not only people in my consistency, but of north Birmingham too.
"I have raised this with the government multiple times. It needs to cut to the chase to make a decision on the future of the hospital to get things moving at the site again."
A Department of Health spokesperson said: "The government is working to minimise the impact and discussions with the trust and PFI company are ongoing to ensure there are plans in place to keep any construction delays to a minimum".