Candidate suspended over Dudley 'hepatitis' leaflets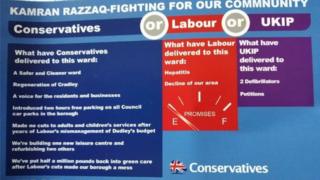 A council election candidate has been suspended after putting his name to a leaflet alleging the Labour party had brought "hepatitis" to the area.
Kamran Razzaq, Conservative candidate for a Dudley council seat, said in the leaflet: "What have Labour delivered to this ward: Hepatitis."
The Tory leader of Dudley Metropolitan Borough Council said it had been produced "without being vetted".
The Labour leader said Mr Razzaq's suspension was "not enough".
Mr Razzaq, of Stourbridge, was due to stand in the elections on Thursday 3 May but was suspended by the Conservative party after the content of the leaflet was revealed.
It appears to refer to an outbreak of hepatitis at a local primary school.
The content of the election literature was exposed by Conservative Parliamentary aide Christian Calgie, who tweeted a photo of it.
He said: "The reason I shared it is that often in politics, embarrassment is one surefire way to get a party to act."
Patrick Harley, Conservative leader of the council, said: "Mr Razzaq's leaflet was produced without being vetted. The local association have suspended him pending an investigation.
"Until that investigation has concluded it would be wrong to add anything further."
Labour leader for the authority Peter Lowe said: "It is the most surreal leaflet I've ever seen. Despicable.
"They've taken the right action eventually, but I don't think suspension of the candidate is enough.
"They should also suspend those who delivered it, until the facts are established."