Commonwealth Games: 'Work starts now' in Birmingham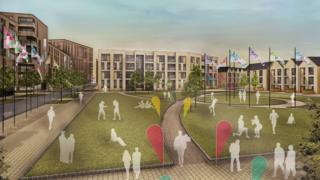 How does a city change from a commercial and residential hub into an international sporting venue? On Sunday, Australia's Gold Coast formally handed over Commonwealth Games duties to Birmingham - with the 2022 host's transformation already under way, officials say.
One minute, a cellist's pizzicato rings out at Symphony Hall. The next there is the beetroot-faced grunting of a weightlifter struggling with the clean and jerk.
Talk about B flat, talk about passing on the baton - this is what happens when places designed for one thing start to do another. Or at least it soon will be what happens - in four years' time to be precise.
On Sunday, Australia's sunny Gold Coast - 2018 Commonwealth Games host - handed over to landlocked Birmingham where, according to the city council, 95% of buildings set to be used are already built. Other sites will continue to be enhanced, or demolished and reconstructed.
But that is not quite the same thing as a city itself being turned over to sport - the queuing for buses near someone going for gold; the buying a pasty close to excellence.
For instance, Victoria Square - the heart of commercial and administrative Birmingham - is set to become a basketball venue. That means people going about their business as players do the business. Blood, sweat and tears where pigeons used to be and a skateboarder thought twice.
And here is Victoria Square... centrepiece of the Birmingham end of the handover, looking slightly less Air Jordan on Sunday, but still with plenty of wind in its sails - although those are hula hoops, not Olympic rings.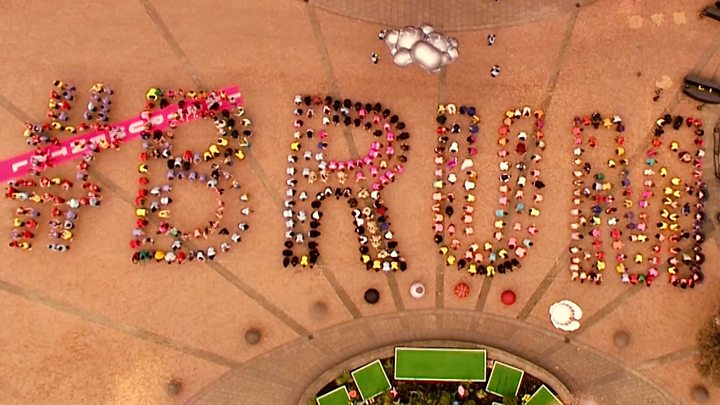 During the handover, Birmingham Lord Mayor Anne Underwood said: "We may not be able to offer sun, sea or the sand of Australia's Gold Coast, but what we can offer is youth, diversity and creativity."
Talking of youth, the boot will be put into the 1970s - a boot to be replaced by running spikes.
A decades-old Birmingham City University campus is the demolition victim and set to become a £370m village for more than 6,500 competitors. Existing athletics venue Alexander Stadium, meanwhile, receives a £70m revamp; boosting capacity from 12,700 to 40,000.
The University of Birmingham's two synthetic hockey pitches will also be upgraded, with Villa Park set to host the rugby sevens; the Genting Arena at the NEC, badminton; Arena Birmingham, gymnastics; and those weightlifters competing at Symphony Hall - just metres from the bars where, normally, pints are lifted. A grunt has probably never had better acoustics.
Ian Metcalfe, chairman of Commonwealth Games England, said: "The work starts right now to bring the Games to Birmingham in 2022."
That is not to say, though, other places cannot lend a helping hand.
Nearby Smethwick will build an international competition-standard aquatics centre; The London Velodrome is to host the track cycling; and Leamington Spa will feature lawn bowls at its Victoria Park. Coventry's Ricoh Arena will host the netball.
So perhaps, then, this council quote cannot be a catch-all, but the spirit of it is nevertheless clear. The message is Birmingham will "extend a warm Brummie welcome to everyone".