West Midlands PCC calls car security summit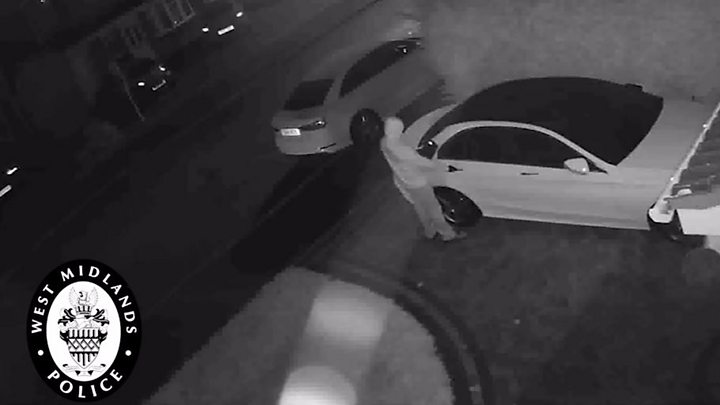 Car manufacturers are being called on to do more to combat so-called relay thefts of keyless entry cars.
A summit organised by West Midlands Police and Crime Commissioner (PCC) David Jamieson is being held in Coventry on Thursday.
Executives from Jaguar Land Rover, Ford, Audi, Nissan, Honda and BMW have all attended.
It comes after the West Midlands PCC revealed car thefts had almost doubled in the force area since 2015.
West Midlands Police figures show 9,451 cars were recorded stolen in 2017, up from 5,344 in 2015.
"Manufacturers who sell and profit from selling cars have a big responsibility to make their cars harder to steal," Mr Jamieson said.
The Society of Motor Manufacturers and Traders said recent increases in vehicle crime were concerning but thefts were still relatively rare, affecting less than 0.3% of the near 40 million vehicles on our roads.
Society Chief Executive Mike Hawes said: "The latest models feature sophisticated immobilisers, tracking devices and encrypted key codes to prevent cloning and manufacturers are investing billions to try to stay one step ahead of the criminals."
West Midlands Police has seen a spate of relay crimes, where thieves use special technology to access and drive away keyless entry cars.
At the weekend, Mr Jamieson revealed he had written to online retailers eBay and Amazon to urge them not to sell key programmer devices which enable this type of theft.
EBay said the devices were already banned. Amazon refused to comment, but said it would be writing to Mr Jamieson.
What is relay crime?
Offenders use two so-called "relay boxes" to steal cars with a keyless entry system - one where the driver only needs to be close to the vehicle to unlock it.
Using one box, a thief scans a property for a frequency being emitted by the key, often kept close to the front door.
That frequency is then transmitted to a second box held by an accomplice close to the car.
The car's systems are then tricked into thinking that the key is present and it is unlocked and started at the press of a button.
Relay boxes can receive signals through walls, doors and windows, but not metal.
Other types of cars are not affected.
West Midlands Police has previously advised using a Thatcham-approved steering lock to cover the entire steering wheel and urged drivers to consider fitting a tracking device.