Birmingham's Alexander Stadium in £70m revamp for 2022 Games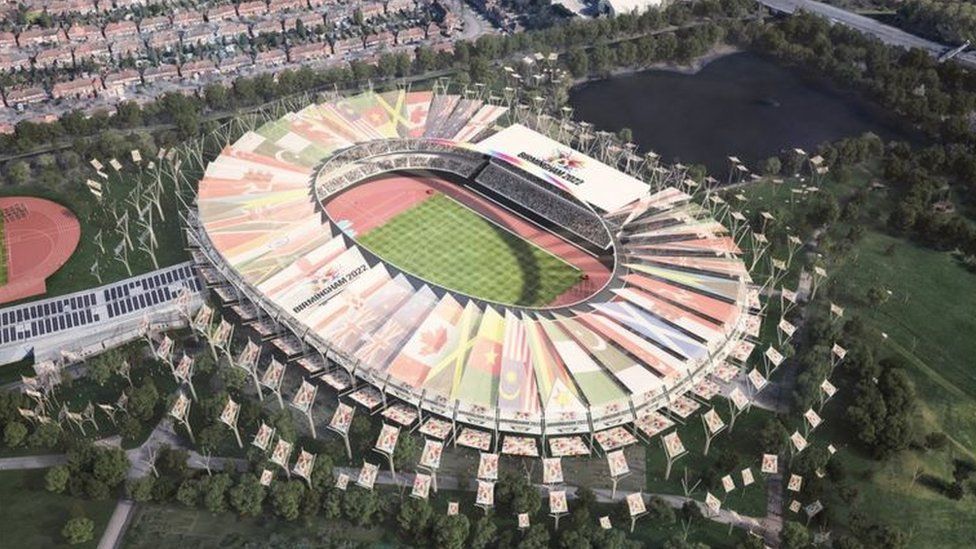 A £70m plan to expand Birmingham's Alexander Stadium in time for the 2022 Commonwealth Games has been announced.
The investment will boost the 40-year-old structure's capacity from 12,700 to 40,000 and retain 20,000 seats after the event.
The expansion would see it become the UK's largest permanent athletics stadium outside London.
Australia will hand over the Games to the city on Sunday after hosting the 12-day event on the Gold Coast.
More than 4,500 athletes from 71 nations and territories have been taking part.
Prime Minister Theresa May visited the stadium - which will host the 2022 opening and closing ceremonies as well as athletics - on Wednesday.
She said the investment would be transformational and benefit the local community and the West Midlands region.
"Birmingham's dynamism, diversity and ambition capture exactly what it is to be part of the Commonwealth and I'm sure that in four years' time, the people of this city will host an incredible event which showcases the very best of Britain to the world," she said.
The revamped venue, which is already the administrative home for UK Athletics and used for Diamond League events, will have new community sports facilities, a permanent warm-up track and a new conference meeting space.
Birmingham was confirmed as the host of the £750m event in December.
The city's bid was the only one submitted to the Commonwealth Games Federation (CGF) by the deadline of 30 September, after it was chosen ahead of Liverpool as Britain's nomination.
The Games are expected to take place between 27 July and 7 August 2022.
It is thought the government will pay 75% of the cost of hosting the Games, with the other 25% - about £180m - raised locally.
Related Internet Links
The BBC is not responsible for the content of external sites.