Millions to see Birmingham during Commonwealth handover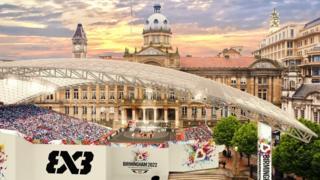 Birmingham will show itself as a "diverse, young, contemporary city" ahead of hosting the 2022 Commonwealth Games, organisers said.
Poet Amerah Saleh, who will be part of the event, said the city will come together to celebrate its talents during Sunday's handover ceremony.
The handover will see a dance by 400 young people broadcast live and works by a rapper and a filmmaker.
Those behind it said it will "showcase what Birmingham can do".
The city is also hosting a homecoming ceremony for Great Britain's athletes returning from the Gold Coast the following week.
Miss Saleh, 25, from Sparkhill has written "Tourist in my City" about what the games will mean.
"I wanted it to be something for people who are from Birmingham to see and feel proud of their city, while people who are new to the city will think, that is somewhere I would like to visit.
"This is a great opportunity to connect with a global audience."
Birmingham has had since December to plan the handover, when it takes over as host city.
It will include a film by Oldbury's Daniel Alexander, 34, called, 'We're From Birmingham' and Erdington rapper Lady Sanity, 23, performing her song Go the Distance from Australia's Carrara Stadium.
Jacqui Kennedy, from Birmingham City Council, said she is "excited" to see the city broadcast to an audience of millions.
The final budget for the events is being finalised by the Department for Digital, Culture, Media & Sport and will be published in due course.
The government will fund 78% of the cost of the games with contributions coming from Birmingham City Council, neighbouring authorities, the Midlands Engine, Local Enterprise Partnerships, universities and West Midlands Combined Authority which has already pledged £20m.