Black Mamba warning after seven Birmingham deaths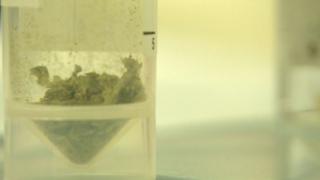 A warning has been issued after the deaths of seven men which may be linked to former legal high Black Mamba.
Drug workers in the West Midlands were sent an alert after "a cluster" of incidents in a short period last week.
Public Health England (PHE) sent out an alert about the deaths, which happened across Birmingham and the Black Country.
Police confirmed one death, at a city centre hostel, was linked to the drug, also known as spice or mamba.
A second death, also at the hostel, is believed to be drug-related.
Lethal dose
The drug mimics the effects of tetrahydrocannabinol (THC), the main psychoactive chemical in cannabis.
PHE said "an alert was sent out to commissioners of services and outreach drug workers," following the deaths.
A man in his 30s died in the city centre last April after taking a lethal dose of the drug.
Trident Group, who run the hostel in the city centre, where two men died, said it was working with local authorities.
"Our condolences go out to the families at this time.
"We are currently working with the local authorities, the police, and others, responding to ongoing investigations and difficulties that are being experienced in the city."
There is also an unconfirmed report of a prisoner dying at HMP Birmingham in Winson Green.
The drug was among a raft of so-called legal highs which were outlawed when the Psychoactive Substances Act came into effect in 2016.