Crufts' live final disrupted by Peta animal activists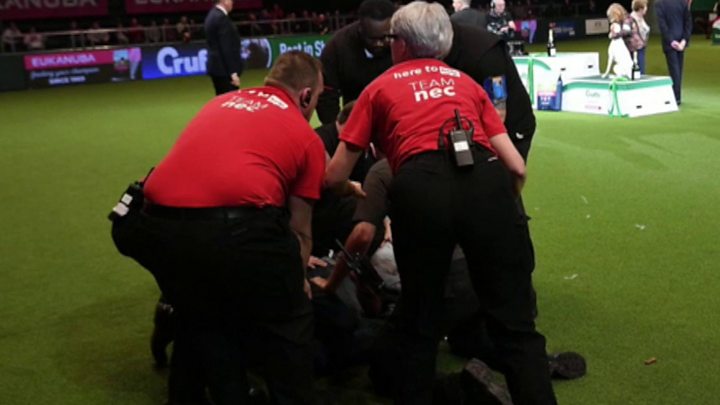 Intruders disrupted the live broadcast of the Crufts dog show as the top prize was awarded.
Two intruders, said by Crufts to be part of animal rights group Peta, ran into the show arena at Birmingham's NEC as the winner claimed her prize.
Yvette Short, from Edinburgh, grabbed two-year-old whippet Tease as the protesters were wrestled to the ground amid boos from the audience.
Crufts and the NEC said security would be reviewed as "a matter of urgency".
A Crufts spokesperson said the intruders "scared the dogs and put the safety of both dogs and people at risk in a hugely irresponsible way".
Peta (People for the Ethical Treatment of Animals) later tweeted the footage, where it described Crufts as "canine eugenics", and said the activists were protesting against "extreme breeding".
In a statement the animal rights group said Crufts is a "cruel beauty pageant" that rewards breeders "for producing dogs with 'ideal' physical traits with little or no regard for their welfare".
"Breeding pedigree dogs in abnormal shapes and sizes leaves them with genetic predispositions to epilepsy, heart disease, deafness, hip dysplasia, and numerous other health problems," it said, citing particular problems among bulldogs and pugs.
No dogs were harmed during the incident.
Ms Short said she felt "absolutely ecstatic" following the triumph, but was scared at the time and what happened "spoilt it a little bit".
She said: "It wasn't necessary... they're animal lovers and the animal lovers went and scared this little animal [Tease]... I've got no sympathy for them.
"I think she was a little bit scared... she was shaking, yeah, and it was our moment, but she's recovered."
Last year, a photographer settled a two-year legal battle with Peta over a "monkey selfie".
The group had claimed a macaque monkey called Naruto - which took the picture on David Slater's camera - was the author and owner of the image and should therefore own the copyright.
The case went in favour of Mr Slater but, pressured by the group, he agreed to donate 25% of any future revenue from the photograph to charities dedicated to protecting macaques' habitat or welfare.