Birmingham church stabbing accused found dead in prison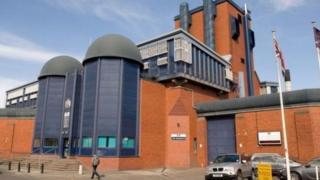 A man accused of carrying out a knife attack inside a church has been found dead in prison a week before he was due to stand trial.
John Delahaye, 46, was pronounced dead at HMP Birmingham on Monday, the city's crown court was told.
He was on remand after a church elder and two other men were injured during a service at the New Jerusalem Apostolic Church in Aston in September.
The director of the prison said his death would be investigated.
Mr Delahaye, of Ettington Road, Aston, had been due to face trial at Birmingham Crown Court on 12 March, charged with attempted murder, making threats to kill, wounding, and two counts of possessing a bladed weapon.
During a court hearing which discontinued proceedings against Mr Delahaye, prosecutor Phil Bradley QC said: "The information I have from the officer in the case is that the defendant was discovered on Monday in his cell at about eight o'clock and he was deceased.
"In the circumstances we ask that the indictment be marked accordingly."
There were about 150 people at the church for a service on morning of Sunday 10 September when the attack took place.
Karl George, Adam Brooks and Jorge George all suffered knife injuries.
Mr Brooks, son of church founders Melvin and Yvonne Brooks, had two serious wounds to his neck and a gash to his hand.
The 33-year-old school mentor said: "I'm really sad. I think death at any time is a terrible thing, especially when it is unexpected.
"But I'm also disappointed and frustrated. This case was a big part of my life and I was hoping the trial would help me achieve some sort of closure.
"I also hoped that the individual would get some rehabilitation and his life back again."
Increased security
He added: "I just feel glad to be alive, as the doctor said that if one of my neck wounds was just five millimetres deeper, I wouldn't have made it."
The church, which has since increased its security measures, is to offer its condolences to the family of Mr Delahaye at a service on Sunday.
Mr Brooks said: "We want to show people that church is open for everyone, that everyone is welcome and no one should be afraid."
Director of HMP Birmingham Rob Kellett said his thoughts were with Mr Delahaye's family "at this difficult time".
"As with any death in custody, this will be investigated by the Prison and Probation Ombudsman," he added.