Tougher penalties call over paramedic attacks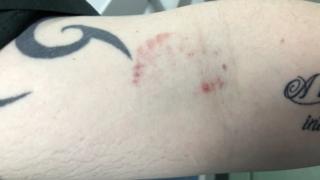 People who abuse paramedics should face tougher penalties, an ambulance manager says.
Mike Duggan spoke out after a paramedic was bitten on the arm as he helped nurses treat a patient at a Staffordshire hospital.
It happened on Sunday, the same day his colleagues were verbally abused and told to move their ambulance in an abusive note.
West Midlands operations manager Mr Duggan said crews faced constant abuse.
He said the aggressive actions of the woman were "unacceptable" but "becoming part of the job".
Midlands Live: Wolverhampton murder probe gets reinforcements; Support the Potteries more, MP tells Commons
"It's not just one weekend, it's becoming part of the job, just normal. We're facing constant abuse," he said.
"It is unacceptable. I'd like to see tougher penalties on people who attack the emergency services.
"I think there should be mandatory prison sentences for people to act as a deterrent. It should not be tolerated."
A colleague of Mr Lynch tweeted a photo of his injuries.
An ambulance service spokesman said he needed treatment for his wound and a course of antibiotics.
On Tuesday, Kirsty Sharman, appeared in court and admitted writing the message on an ambulance, on which she told the crew "to move your van" as well as verbally abusing them.
The ambulance had been responding to a next door neighbour's emergency call in Parsonage Street, Stoke-on-Trent, to help his wife, who was "experiencing breathing difficulties".
CCTV cameras were installed in most ambulances in 2016, but Mr Duggan is now calling for crews to have body-worn cameras.
"I think we should have body cameras to record evidence, we have CCTV already which can be used as evidence," he said.
"It's two fold. If someone complains about me, then it's there to uphold or contest what they say."