Police apologise to former Clash roadie over arrest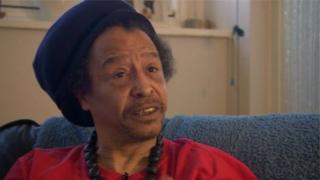 West Midlands Police has apologised to a man who was assaulted and racially abused during his arrest in Birmingham more than 10 years ago.
Deputy Chief Constable Louisa Rolfe said she was sorry about the "unsatisfactory conclusion" to Don Lorenzo's complaint after he was thrown down stairs during his arrest.
Mr Lorenzo was previously told officers would not face misconduct proceedings.
He said the public apology was a "small step forward".
Police and Crime Commissioner David Jamieson had asked police to apologise following the news that misconduct proceedings against the officers involved in Mr Lorenzo's arrest had been dropped.
At a meeting of the strategic policing and crime board DCC Rolfe said: "I think it is important we apologise for the poor service Mr Lorenzo received from West Midlands Police in investigating his complaint and addressing his concerns arising from his arrest in November 2007."
She added: "I wanted to express my personal apology to him and an apology on behalf of the organisation.
"I am determined we will learn from this case."
Mr Jamieson said Mr Lorenzo "was treated in an appalling way by the force" and that he was "disappointed there were no misconduct action taken against the officers involved".
He added: "This undermines the trust the public have in the force and is incredibly serious. Lessons must be learnt.
"I am pleased West Midlands Police has now apologised."
Former Clash roadie and drummer Mr Lorenzo, 65, had previously said he wanted a public apology from the police to make what he'd been through "worth it".
Don Lorenzo's case
November 2007: Mr Lorenzo arrested over assault allegation, later withdrawn. He is charged and found guilty of assaulting an officer in custody - later quashed on appeal
2008: West Midlands Police's professional standards department finds its officers have no case to answer
October 2011: Mr Lorenzo pursues legal action and a jury at Birmingham County Court finds he was assaulted and racially abused by officers
December 2012: West Midlands Police fails in its appeal against the judgement at the Royal Courts of Justice in London
June 2013: The Independent Police Complaints Commission (IPCC) decides to investigate Mr Lorenzo's treatment in 2007 and the 2008 internal investigation. The investigation takes three years
October 2016: IPCC decides eight police officers and one member of police staff will face misconduct proceedings
November 2017: The Independent Office for Police Conduct agrees with West Midlands Police proceedings should not go ahead