West Midlands dog handler impaled on spike back at work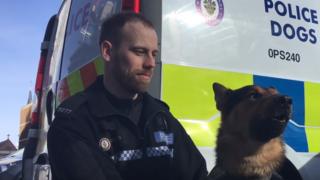 A West Midlands Police dog handler who was impaled on a fence during a chase has returned to work.
PC Dan Thomas was responding to reports of a motorbike theft at 03:00 GMT in Sutton Coldfield on 30 December.
He had just lifted two-year-old police dog Gil over an 8ft (2.4m) fence when a spike "tore through his bicep" causing "significant blood loss".
PC Thomas pulled himself free, chased and arrested the suspect, moments before losing consciousness.
West Midlands Police said he needed surgery on the wound, including 15 stitches, to repair the damage.
Ch Insp Jack Hadley praised the officer's "dedication and tenacity", while others described him as a "hero".
'Kindness and support'
PC Thomas, who has served with West Midlands Police for 16 years, said his pooch partner has been "chomping at the bit to get back to work".
"I've been exercising him every day but it's not as stimulating, or exciting, for him as working, tracking scents and chasing criminals," he said.
The force said PC Thomas is away from frontline duties while he rebuilds strength in his arm but hopes to be back with the Response Unit at Sutton Coldfield by the end of February.
He added: "I've been overwhelmed by the kindness and support shown to me by the public, it's really kept my spirits up during the recovery."
PC Thomas thanked staff at Good Hope Hospital who treated him and managed to repair his damaged tattoo.
"I had a full arm tattoo not long before the injury…the spike tearing through the design was one of the most upsetting things," he said.
"Thanks to the amazing skills of the hospital staff though I've been left with just a hairline scar; it's hardly visible."