James Brindley murder: Teen found guilty of stabbing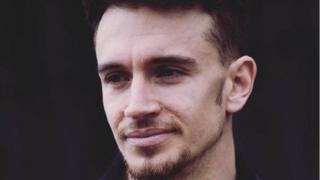 A teenager has been convicted of fatally stabbing a budding male model and entrepreneur who was walking home from a night out.
James Brindley, 26, was knifed in the heart 400m from his parents' home in Aldridge, Walsall, West Midlands.
The 17-year-old, who cannot be named for legal reasons, had denied murder, but was unanimously convicted by jurors at Birmingham Crown Court.
Aaron Kahrod, 21, who was also on trial for murder, was found not guilty.
Judge Patrick Thomas QC told the 17-year-old he would be sentenced on Friday and faced jail.
The boy's mother collapsed in court after the verdict was read out.
He had admitted teasing Mr Brindley "about his girl" in a conversation covertly recorded by police, but said the victim had fallen on the knife during the attack.
Earlier in the trial, jurors heard the fatal wound was delivered in a 35-second gap between two phone calls Mr Brindley had with his girlfriend at 23:42 BST on 23 June.
Prosecutor Jonas Hankin QC told the court witnesses had seen shoving and the youth had pushed the victim, forcing him to stagger backwards.
Mr Hankin told the jury the defendant's first thought was "to immediately dispose of evidence" rather than seek help.