Amazon courier firm drivers 'owed thousands'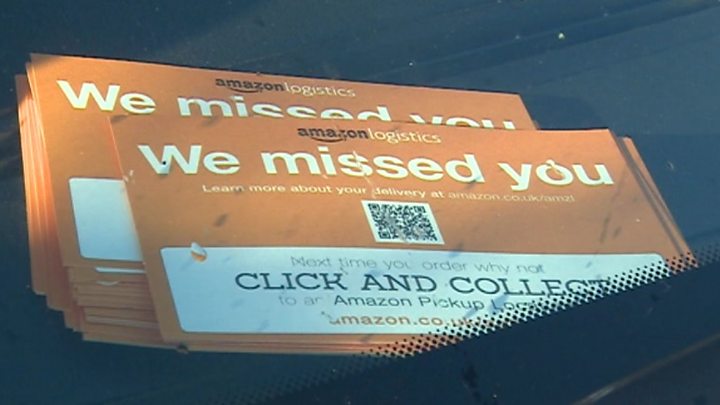 Two delivery drivers contracted to work for Amazon were "owed thousands" for work carried out on behalf of the firm before Christmas.
The drivers, employed through company Engage Transport, said the firm "ruined Christmas" and that the agency is "bad for payment".
Engage Transport said the claims were false but that time was "required to calculate outstanding amounts owed".
Amazon said it would not comment on individual contractors.
Since contacting the BBC, one of the drivers has received the payments owed to him by Engage Transport.
An email seen by the BBC, allegedly from the firm, also suggested it would consider paying one of the drivers £20,000 and/or provide him with a family holiday if he "stops all contact with the media".
The BBC is awaiting a further response from Engage Transport regarding the content of the email.
Driver and father-of-five Graham complained after not receiving payment for work carried out for Amazon through Engage Transport.
He was taken on throughout December 2017 and would deliver "in the region of 150 parcels a day".
He said: "They left me completely out of pocket and without the money I needed to be able to buy presents."
Engage Transport has a contract for deliveries with Amazon, operating in and around Birmingham as well as Stoke-on-Trent, Wednesbury and Worcester.
In September, another group of drivers who deliver parcels for Amazon revealed they were owed thousands by another delivery company.
A year before, a BBC investigation heard drivers regularly worked "illegal" hours and received less than the minimum wage.
Agency drivers told an undercover reporter they broke speed limits to stay on schedule, while others said time was not allowed for toilet breaks.
---
Amazon deliveries
Amazon uses sub-contractors to deliver parcels, rather than employ drivers directly
Sub-contractors can be single owner-operators or larger agency firms
Drivers follow an app designed by Amazon showing a route
---
Peter, another driver who worked for Engage Transport before Christmas, said: "This agency is bad for payment. It's common knowledge."
The company said that its drivers "are paid on time" but that "when drivers stop working with them, there is a short period of time required to calculate outstanding amounts owed to the drivers and to the company before drivers receive their final payment."
Amazon said it was "committed to ensuring that the people contracted by its independent delivery providers are fairly compensated".
Graham said Amazon had been "completely unresponsive" on the matter.