Delayed Midland Met Hospital cost may rise due to Carillion collapse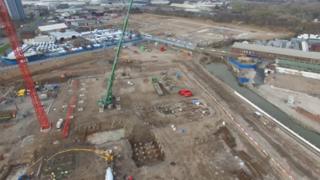 The collapse of construction giant Carillion could see the cost of a delayed £350m hospital rise.
The Wolverhampton-based firm had successfully bid for a £75m contract at the 670-bed Midland Met Hospital in Smethwick.
The hospital trust, which has already seen the opening put back a year, said a new contractor was now needed and costs "may exceed" £75m.
Carillion went into liquidation earlier this month.
It ran into trouble after losing money on big public sector contracts and running up huge debts of about £1.5bn.
It suffered cost overruns on three public sector construction projects, which include Midland Met Hospital, which is now scheduled to open a year late in 2019.
The firm was awarded the contract in December 2015, and BBC News revealed that it would cost at least £588m over a 30-year contract.
The hospital will replace large parts of Sandwell Hospital and City Hospital in Birmingham, such as the accident and emergency departments which are due to close. Some services will remain at both sites.
Sandwell and West Birmingham NHS Hospitals Trust, which discussed the issue at a board meeting on Thursday, said the collapse could mean further delays.
It was already working with the government, auditors Pricewaterhouse Coopers and partners in the Hospital Company, which is overseeing the building of the hospital.
A trust report said: "The cost of the new hospital may be judged to exceed the bid made by Carillion, and contracted by the trust, and as such funding parties will need to cover this provision, which was £75m in Carillion's accounts and may exceed that in practice."
It added: "Finding the funding model and contractor go hand in hand... it is probable that the time taken to do will extend beyond the period when we could, in theory, terminate our contract."