Terminally ill Sutton Coldfield dad raised £55k for girl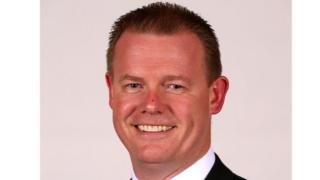 A father-of-two with terminal cancer, who vowed to raise money for others affected by the disease, reached his fundraising target before he died.
Kevin Carr, a former logistics manager for the New Zealand All Blacks, set up the Chalky Carr Foundation after being diagnosed with pancreatic cancer.
Before he died on 21 January, he raised thousands of pounds for a little girl who lost her mother to breast cancer.
The All Blacks described Mr Carr as "selfless".
Mr Carr raised a total of 100,000 New Zealand dollars (£55,000) in four months, for Isla Lunn, who was just seven years old when they first met.
Brett Gamble, chairman of the Chalky Carr Trust said Mr Carr, 45, gave Isla the cheque in person before he died.
He added: "In true Chalky fashion he was bright, he had a smile on his face, and was always joking.
"The death of Chalky is a huge loss for the world, but he will remain an incredible role model as the foundation continues to help others in his memory."
Mr Carr, originally from Sutton Coldfield, grew up in nearby Aldridge, but emigrated to New Zealand about 20 years ago.
A lifelong rugby fan and player, the former Royal Marine got a job with the All Blacks and was on tour with the team in June 2016 when he fell ill.
New Zealand Rugby chief executive Steve Tew said in a statement: "This is an incredibly sad time and our thoughts are with Chalky's wife, Sarah, and their two sons, Jamie and Josh.
"Chalky gave so much to everyone during his time in rugby, and his selfless action in helping set up Isla for the future says so much about the man."