University of Wolverhampton Springfield campus plans revealed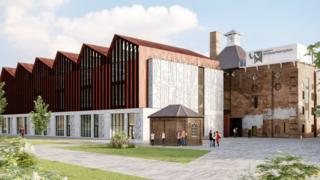 Plans to create "one of the best campuses in Europe" for studying the built environment have been revealed.
The University of Wolverhampton plans to transform the city's former Springfield Brewery into its £100 million School of Architecture and Built Environment by 2020.
Once complete, it could provide space for more than 1,500 students.
However, the university is still looking for a construction partner to sign up to the plans.
Former plans for the site were thrown out late last year after "a preferred bidder" was identified but the "full contract was never awarded" as the university decided "changes were needed" to the scheme.
Now, it has worked with designers to come up with new ideas for the site before it goes out to tender for builders again.
The new building would be "wrapped around" the brewery's former clock tower, and feature a naturally-lit open atrium spanning three floors, covered by a glass roof.
The 7,900 square metre build would also include a saw tooth roof in recognition of the site's "industrial heritage".
There would also be a translucent light-box, mimicking the former Springfield water tower tank, that was destroyed by fire in 2004.
A landscaped piazza and courtyard would link the new school to the two others on the site.
Students at the new centre will able to study subjects including architecture, construction, civil engineering, building control, building services, facilities management, quantity surveying, planning and construction management.
Deputy vice-chancellor Jackie Dunne, the university's project lead for Springfield, said: "Once complete it will offer an unrivalled built environment hub and centre of excellence which will be among the biggest and best in Europe."